Dry Powder Filling Machine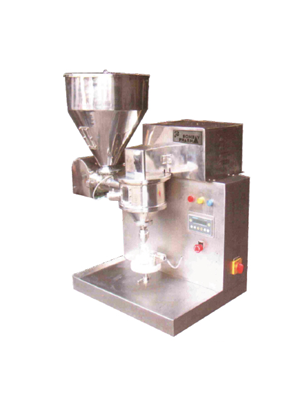 This machine is ideal for dry powder and external dry syrup filling. The design is unique & extremely functional. The machine is simple to operate, readily movable and occupies minimal space. This machine gives OPTIMUM PRODUCTION WITH MINIMUM WEIGHT VARIATION.
Salient Features :
➾ Easy to maintain and simple to operate.
➾ Automatic Powder level maintaining system for maintaining constant level of powder to facilitate minimum weight variation.
➾ Minimum space requirement.
➾ Present revolution control with digital display for quick setting of fill weight.
➾ No mechanical settings, hence can be set & operated by unskilled operator.
➾ Instant Brake mechanism for precise fill weight.
➾ Weight variation within + 2%.
➾ Table model - compact & easily movable from place to place.
➾ Versatile, can handle dry syrup powder filling.
➾ Quick interchangeability in minutes for changeover of product.
➾ All powder contact parts are made of stainless steel 316 or non contact parts are made from stainless steel 304 quality as per customer's requirement.
Technical Details :
Power :
MAIN DRIVE :
0.5 HP MOTOR 415 Volts, 3 Phase, 50 cycles, 1400 RPM
FEEDER DRIVE :
Bonfiglioli gear box & motor
ELECTROMAGNETIC CLUTCH / BRAKE :
24 Volts DC Supply
Output :
1200-1800 bottles / pouches per hour depending on characteristics of powder, neck dia. of container / bottle and weight to be filled.
Weight Variation : + 2%
Weight : 155 kgs.
Dimension : 35"(H) X 25" (W) X 24" (D)